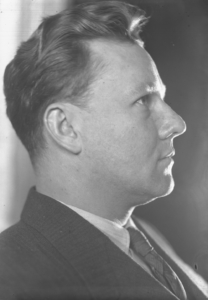 for the inauguration of the Kraków radio broadcast station
I am the scream of the newest station:
Kraków 422
The speech with which I extol you, you torch of democracy,
flows like a wave and lasts.
I wish to welcome you with a scream like a big signal,
wake you up like a sleeping child and love you in clamor,
You airy muse, miracle of zones, magnificent flower,
Speech of unknown joys and fears!
Your loud, boundless singing
rushes into our chambers like a thief
but you are ours like our blood
and it is sweeter and warmer with you.
Come closer, burst out, pulsing America,
in ocean wool, in volcanic lava,
fall on our heads with music
with a rain of unusual revelations!
Greetings to our compatriots,
who forge steel, chop wood –
here speaks the Polish Radio Kraków
on the wave 422.
Let streams flow on in the silence of our meadows,
let food be born in sunlight for sons, fathers and mothers,
we just want to link the chains of your hands
with the tension of supple machines as with a poem
Your singing sways like a ring over the clamorous city
full of longing and sadness,
this is the epic of the most tender passions
growing quietly and slowly.
Oh land of shepherds, fields and birds,
your tongue clipped in heaven quavers
I am speaking – the city of Kraków
on the wave 422.
English translation: Magda Zeman